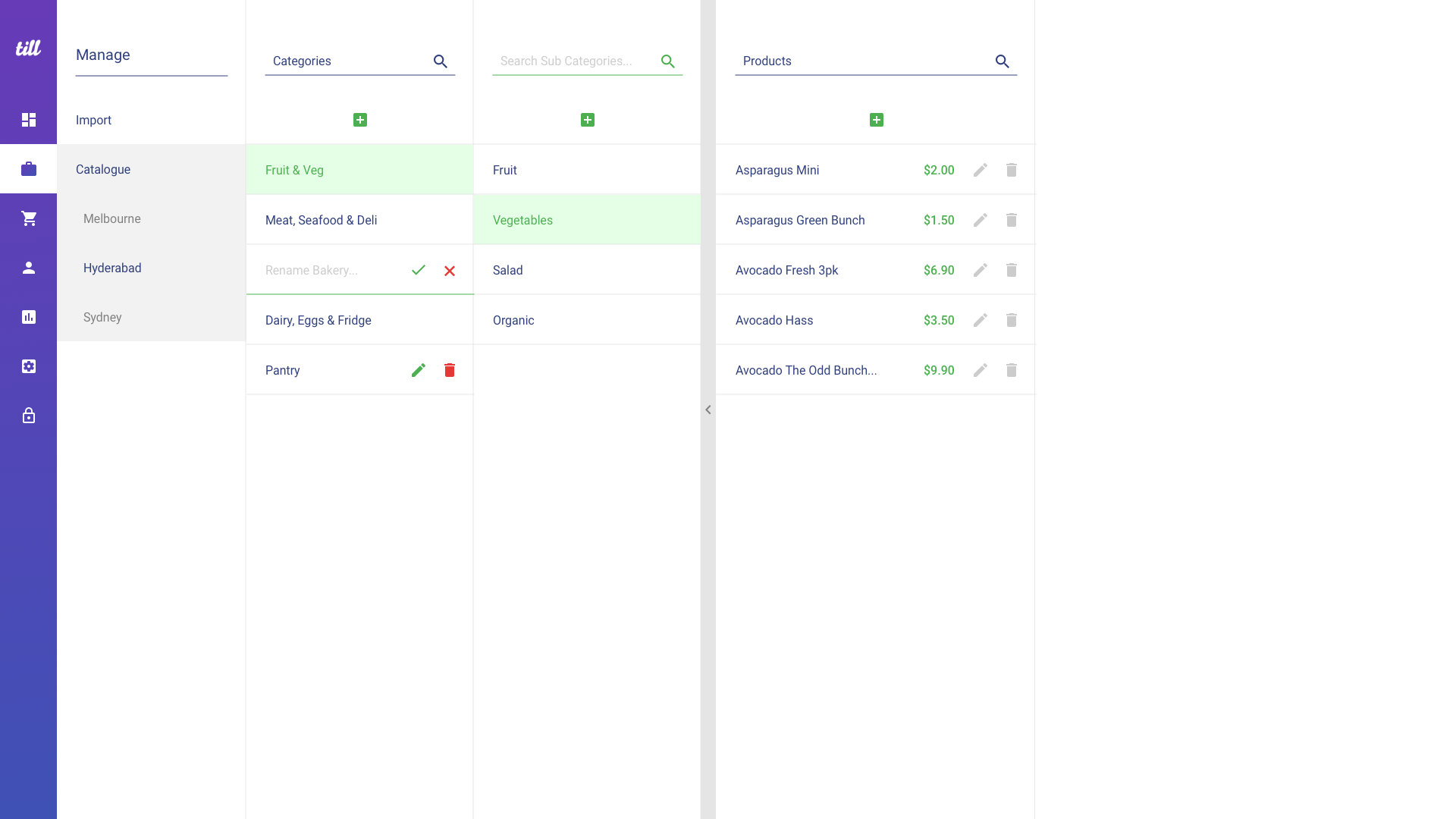 MENU INTELLIGENCE
Organize your products in levels of categories, sub-categories, and variant types. Customize your products' availability and pricing at different Outlets, and Order type levels. Manage recipe, and inventory for each product. All of the above within the structure of your Menu.
CREATES COMBOS ON THE GO
Up sell by selling products in combinations. Engage customers by suggesting different combo deals available for a product. Track Combo performances, and their effect on product sales through our Performance reports. With TILL, Happy hours are always yours.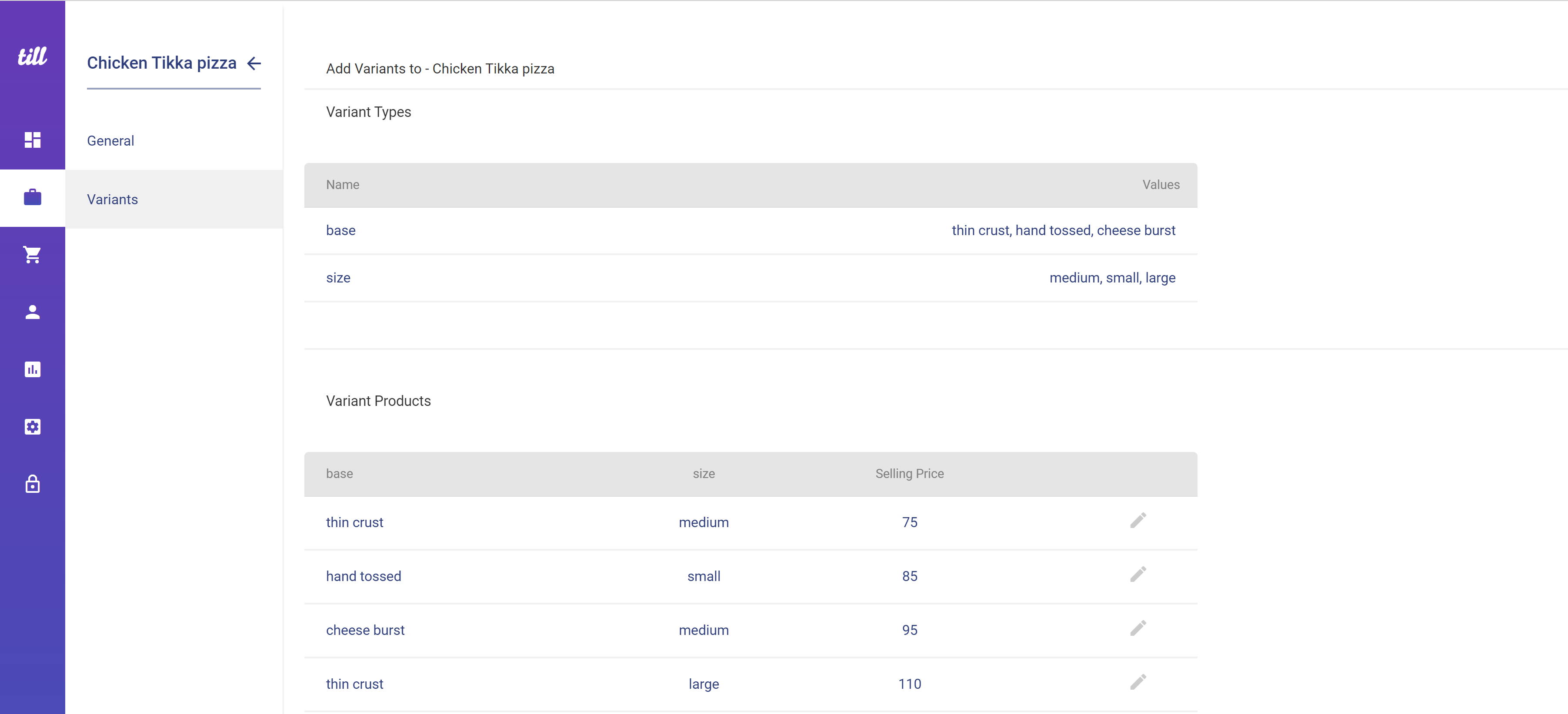 VARIANT COMBINATIONS WITH PRICING
Our variant products are divided by types but united by name. Let your customers express their choices through your variant types of a product such as size, shape, color etc.
MANAGE RECIPE
Map your key ingredients and their quantities to your dishes. Prepare your chefs to Maintain consistency in preparing dishes while at the same time be sure of the usage of your inventory items at any given time. Add any new modifiers. Allow customers to remove or add any of such modifiers accordingly their choice at the time of order.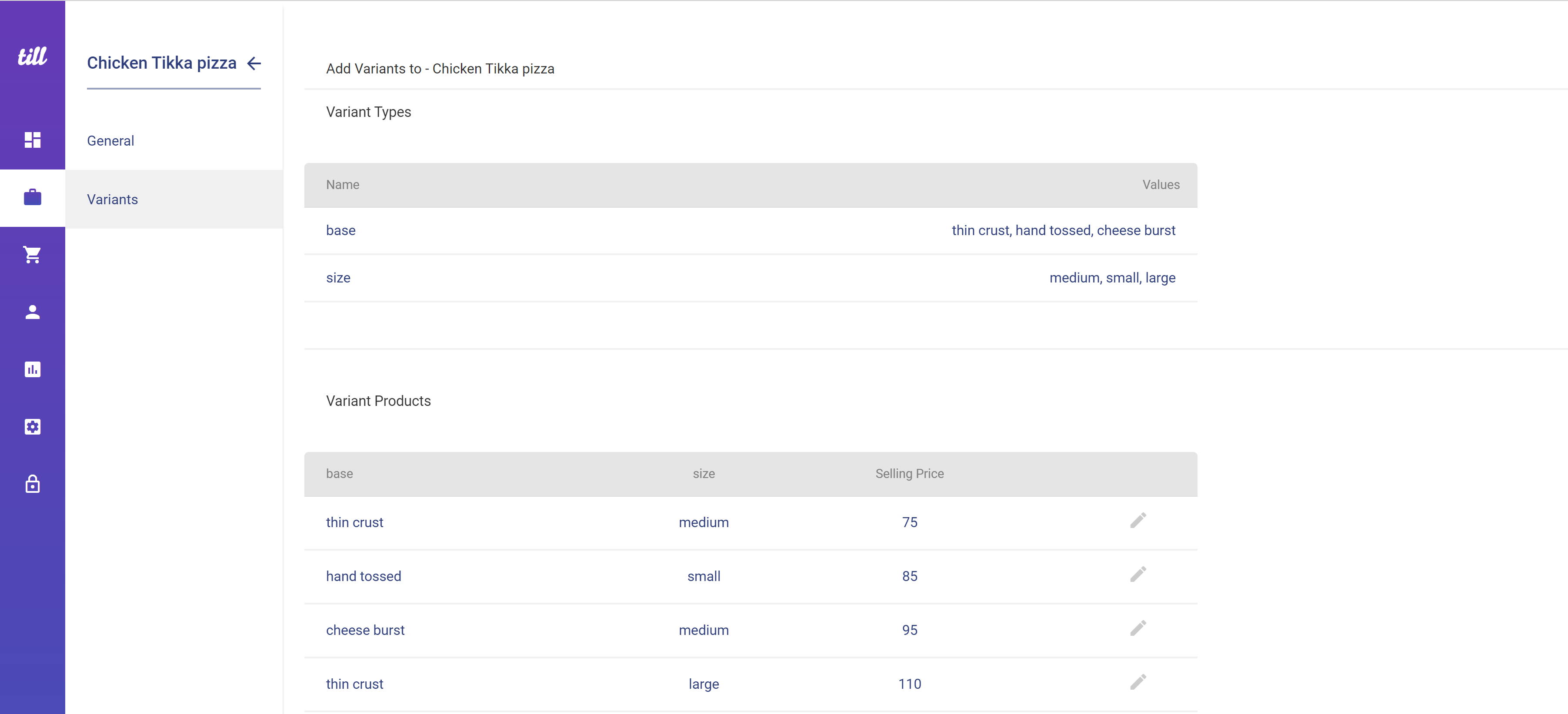 Flexible Product Pricing and Availability
OUTLET LEVEL PRICING
"Have different Outlets with same products but different prices?" simply give your products an outlet level pricing.
ORDERTYPE LEVEL PRICING
Online ordering channels eating up your profits? Simply price your products differently at different order types.
PRODUCT LEVEL TAXES
Assign product level taxes at product pricing level. Assign different product level taxes at different outlets if needed.
Product types and Recipe management
STANDARD AND MODIFIER PRODUCTS
Products which can are bought and sold in the same form are Standard products. Ingredient products that are bought are Modifier products.
COMPOSITE AND COMPOSITE MODIFIER PRODUCTS
Products that are made using ingredients are composite products. Ingredient products that are made using other ingredients are composite modifier products.
RECIPE WITH MODIFIERS
Manage recipes for your dishes by using modifiers and composite modifiers. Allow customers to add on or remove any modifiers at the time of Order. Track Inventory and get a realistic cost price of your prepared foods.
INVENTORY VIEW
Get a quick snapshot of your supplies remaining in the back end without having to move away from your register. With TILL's dynamic inventory view within the App, You sell Pizzas and we'll note your dough and cheese usage.
CATEGORIES AND SUBCATEGORIES
Organise your products into categories and sub categories for better classification and reports. Easily change a product's category and sub category from edit product page.
MENU INTELLIGENCE
Organise your products by Category, Sub category, and Variant types. May it be re organising, or assigning different prices at different outlets or order types, or creating recipe, or look up product inventory at different outlets, Manage all aspects of your Product from one place.
VARIANT PRODUCTS
Classify your products by variant types. Our variant products are divided by types but united by name. Let your customers express their choices through your variant types of a product such as size, type, shape, colour etc.
CENTRAL DATABASE
Maintain all your products in one single place. Maintain all the different availability, pricing, and taxes at different outlets from one single place called edit product.
BULK MENU IMPORT
Import Menu into your business account with ease. Add new products, or Update pricing, or Replace existing products through Import as well. "Have different products or prices at different outlets?" with TILL, Import at Outlet level.
PRODUCT SUPPLIERS
Choose your default supplier for a product. Every time you run low on stock, Purchase order for the product to the supplier is auto created for you to submit. Always stay one click away from ordering any product anytime.