Rapid & Reliable POS for your Restaurant
TILL is a Point Of Sale System that provides you with actionable insights to help you sustain and grow your business.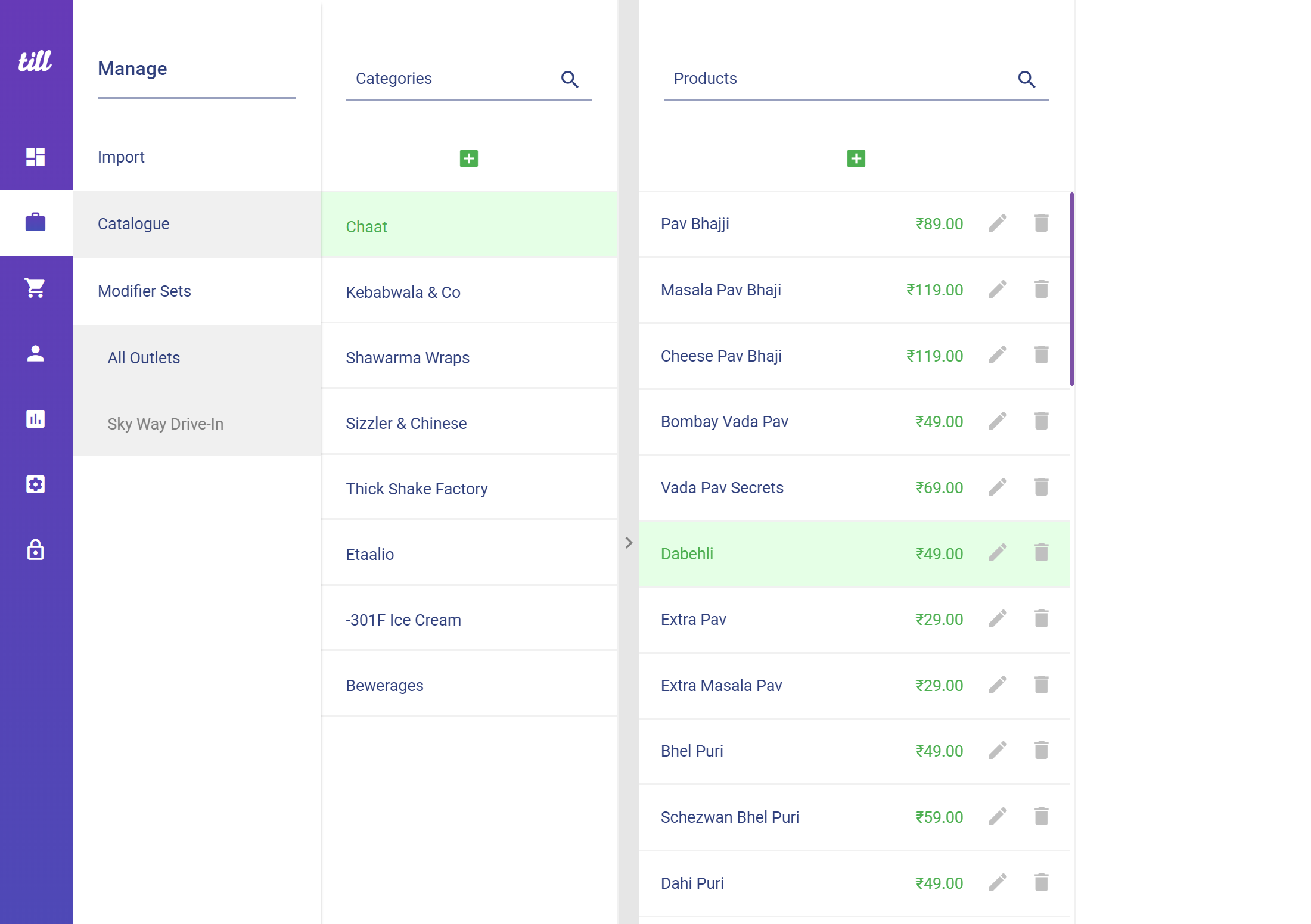 MANAGE OUTLETS IN A DRIVE-IN AS CATEGORIES
All your information from each store will sync in to your account on cloud, always ready to be looked at from anywhere anytime. Filter your reports by categories to see individual outlet wise performance. Have different owners for different outlets? With dashboard level permissions, enable who can access what information.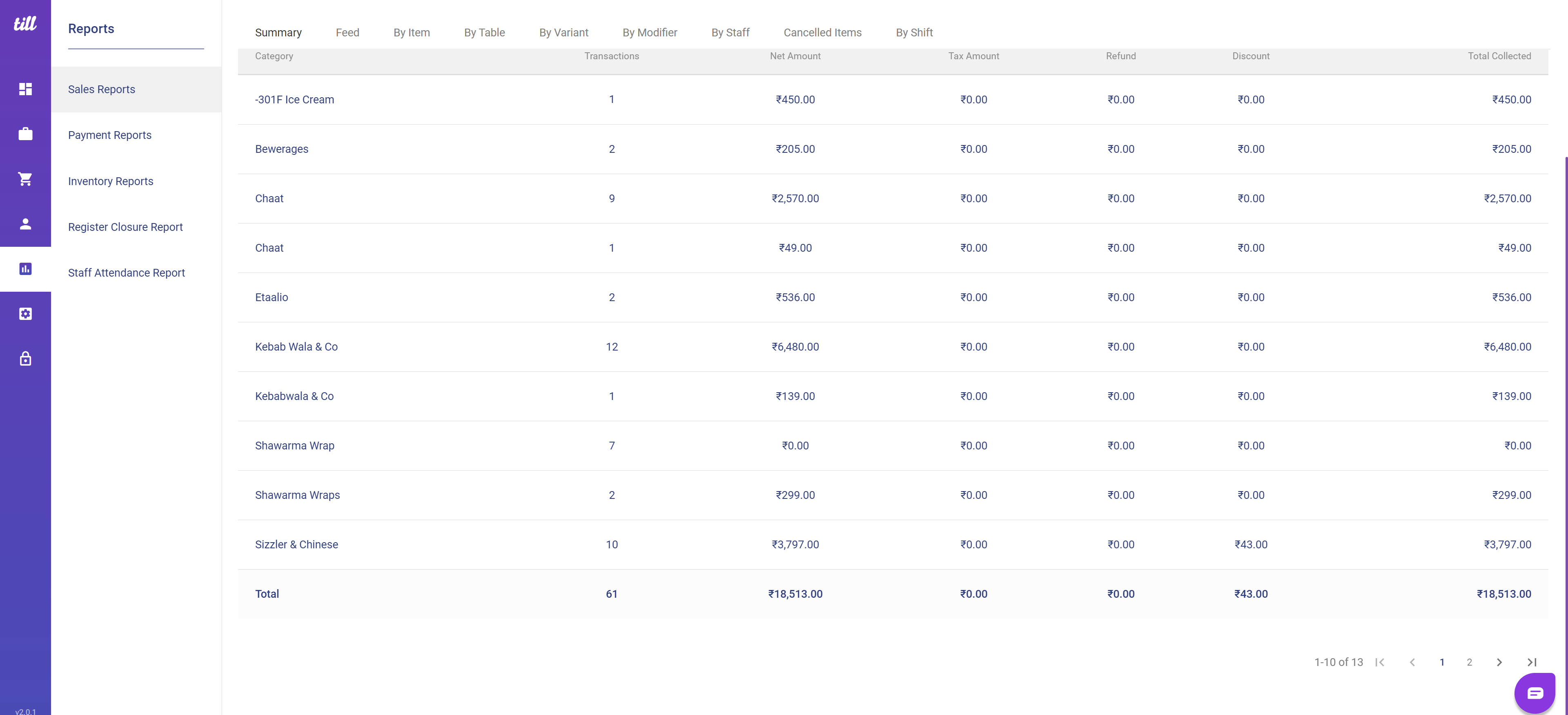 EASY OUTLET LEVEL REPORTING
Outlet level reporting has never been so simple. Outlet owners can check their sales based on top and least selling products live from the mobile sales dashboard or end of day in their daily sales summary email which gets sent out.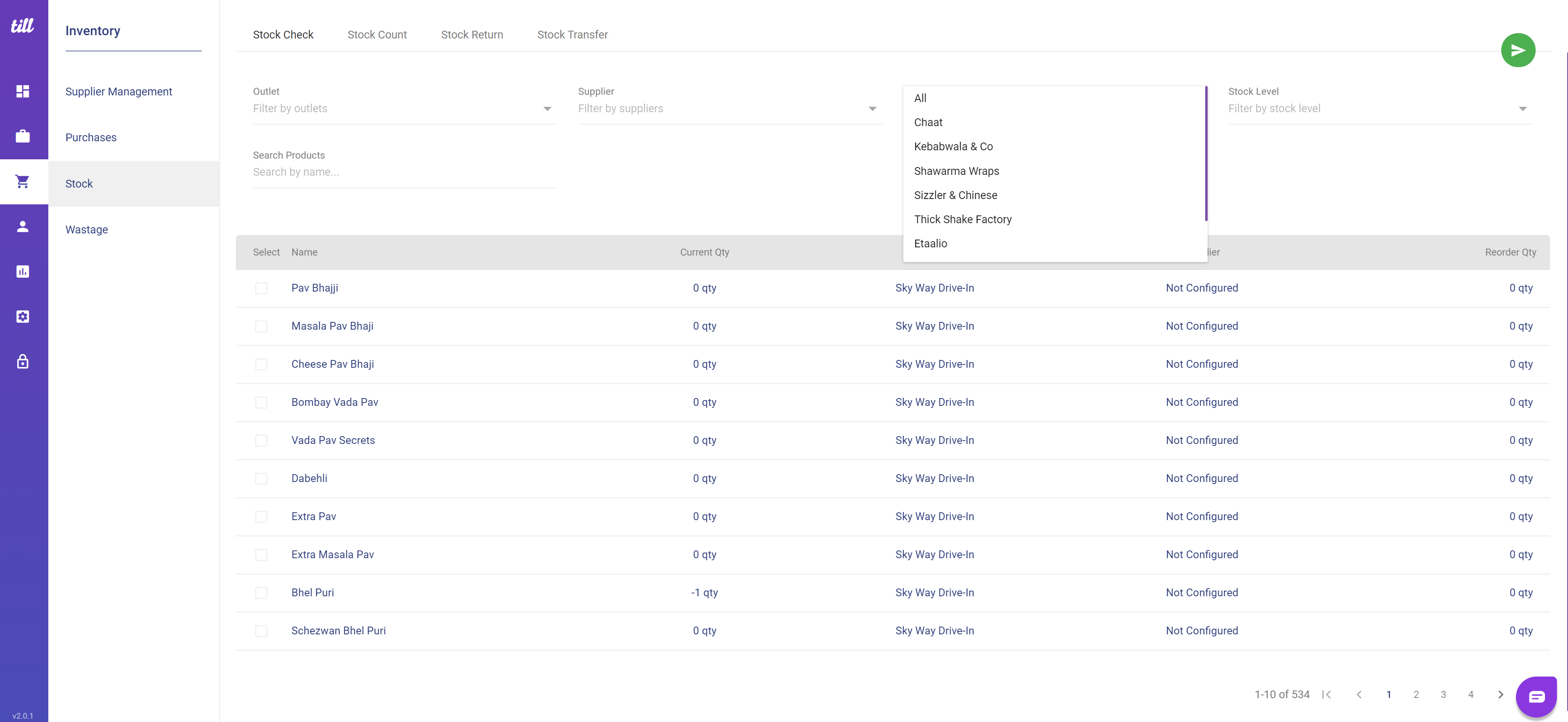 DEPARTMENT/CATEGORY LEVEL INVENTORY MANAGEMENT
Manage inventory for all the booths from one place. Do stock transfers to department/category levels. Easily view, which booth is using how much of your stock from a common place.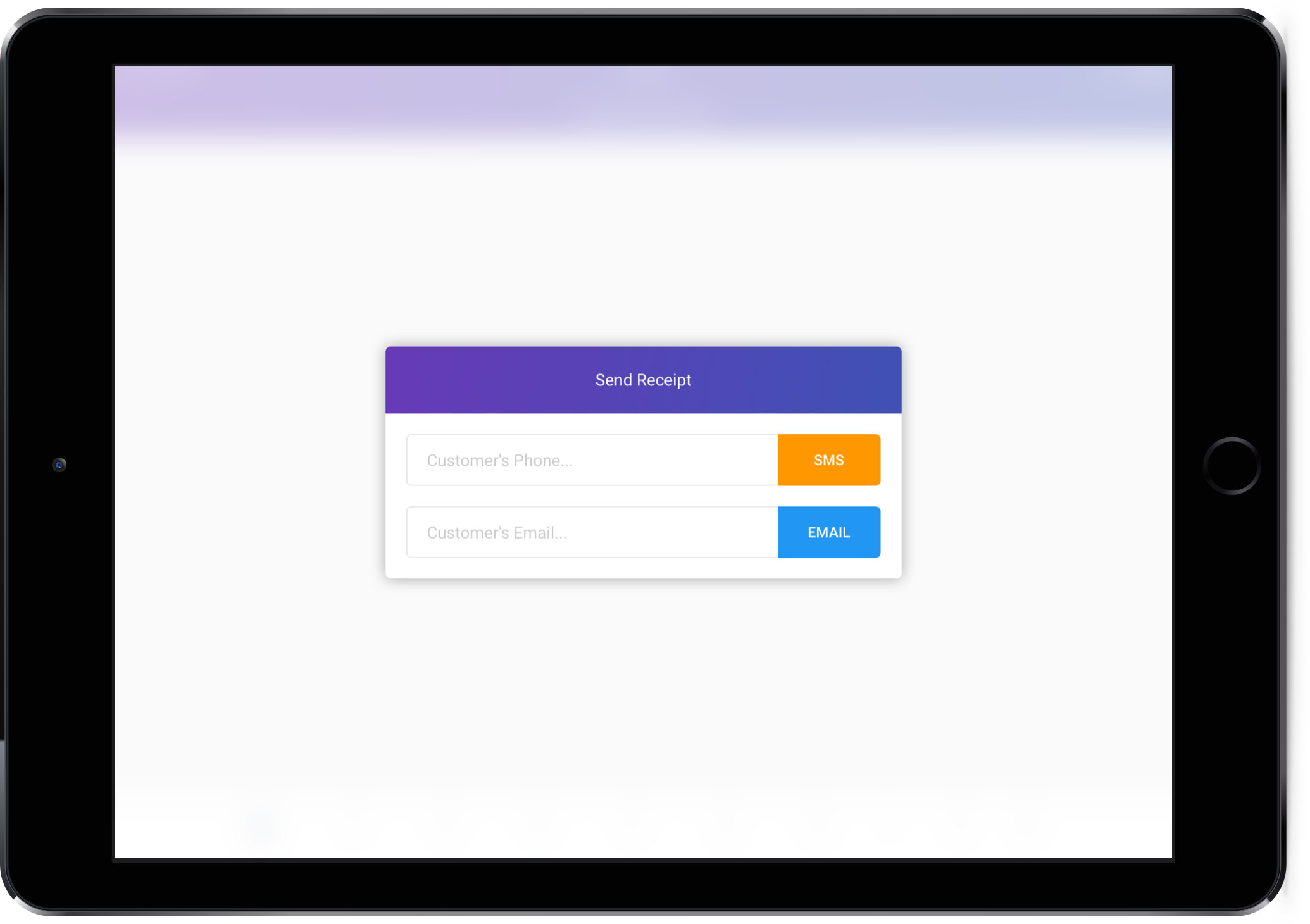 SEND DIGITAL RECEIPTS FOR RETURNING CUSTOMERS
Send receipts to your customers digitally instead of printing. Run time-to-time campaign coupons and combo deals to have your customers keep coming back.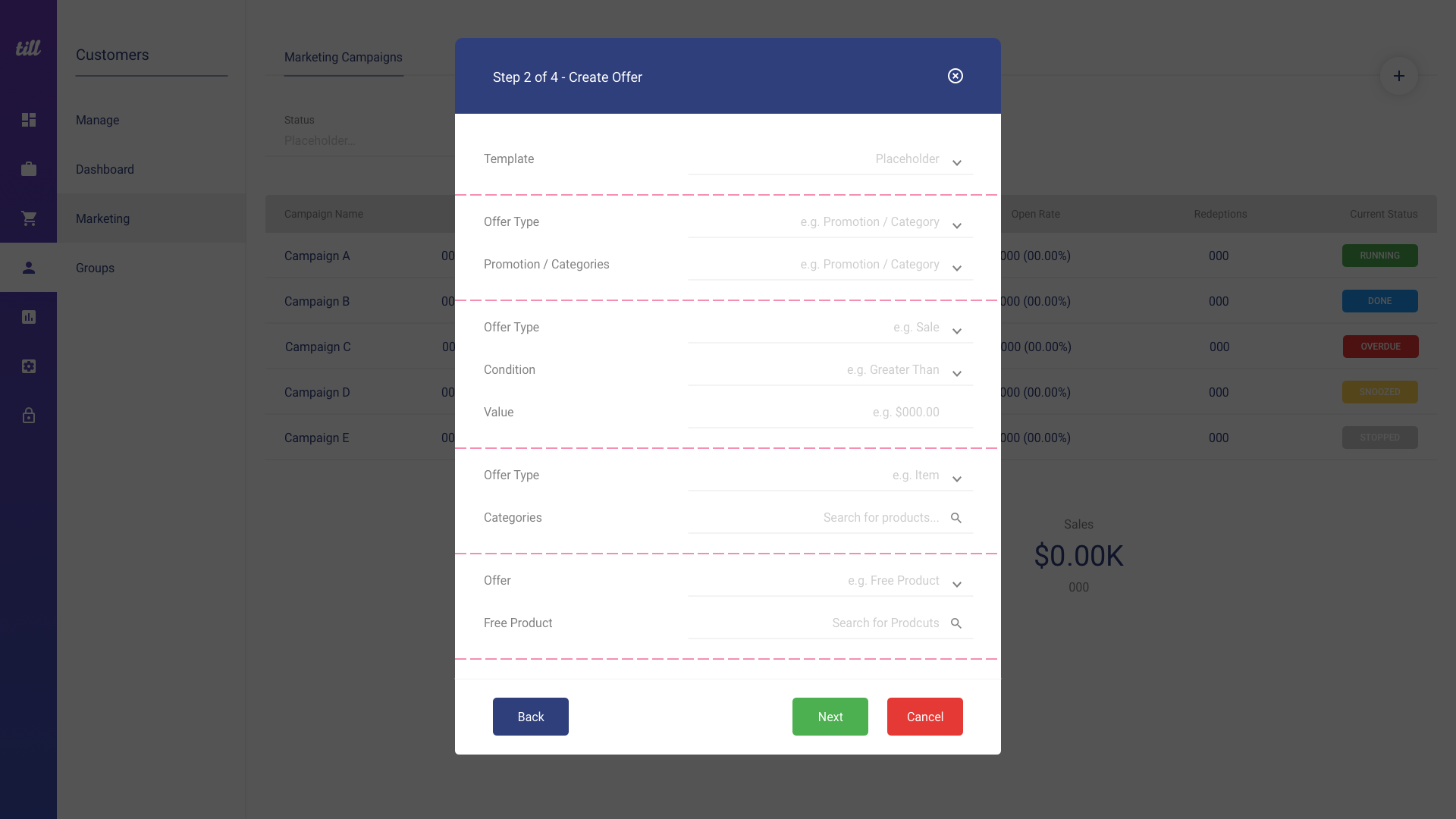 CREATE MARKETING CAMPAIGNS WHEN YOU OFFER ANY PROMOTIONS
Attract your frequent customers by Create marketing campaigns and identify customers based on your choice of measures. May it be high spenders or deal lovers, corporates or students, frequent or once in a blue moon visitors, we've got ways to find them for you to wow.
"Before TILL, we had to manually calculate and reconcile the sales for each outlet in our food court and it took hours to do this. Now with TILL, we and our outlet partners can see how sales are progressing in real-time across multiple outlets and we all can do it from home, overseas, wherever."
SEKHAR (KINGS DRIVE IN)
All-in-One POS Platform With Everything You Need
---

ANY DEVICE
Use TILL POS in devices helping your staffs to manage checks from anywhere in the restaurant premises.

CLOUD BASED
Manage your back office from Anywhere, Anytime and get quick insights of your business. TILL Waiter App allows your staffs to place Quick Orders from mobiles.

MULTIPLE PAYMENT TYPES
Track your daily transactions by setting up Multiple Payment types and get quick insights of your transactions and reporting.

INTEGRATION
Integrate with online ordering , auto-sync. Easy integrations with Accounting Software and integration with PMS

INVENTORY
Inventory Management lets you track your inventory and stocks. Set up your Recipe management with ease.Setting your ingredient products for quick tracking of inventory.

WORKS OFFLINE
Not just Online, TILL also works Offline with POS App. Once your back online the data gets synced automatically into your reports.
Getting Started with TILL is Very Easy
---


QUICK MENU IMPORT
Import your new or existing Menu quickly in on go, more quick and faster


CUSTOMIZE
Set your currency, time-zone, tax-rules, payment types and addons etc.


24*7 SUPPORT
If you get stuck, our 24/7 support team is here to help. We will respond promptly.
JOIN THESE BUSINESSES AND TRY TILL TODAY!
---